Located at 245 Main Street, this historic structure has been the home of the Deep River Historical Society for 75 years! Built by Ezra Southworth in 1842, of local granite from the Southworth quarries, the Greek Revival style home has seen many changes over the years. Three generations of the Southworth family lived here.
Made of local granite this home is a testament to one of Deep River's early industries. Ezra was the son of local shipbuilder, Job Southworth who began building ships at the Deep River landing in the 1790s. While the Denison family carried on the shipbuilding industry Ezra Southworth branched off into manufacturing, becoming a partner and patent holder with the Silliman family of Chester, producing ink wells.
His son, Ezra Job Birney Southworth or EJB went into business with his father-in-law in shipping and was a member of the CT State Legislature twice. In 1882 E.J.B. added the wooden ell onto the Stone House, creating more space for what he hoped would be a growing family. He also added the Queen Ann touches to the Stone House with the gabled roof and the wrap-around veranda in 1898.
Ada Gilbert Southworth Munson was E.J.B.'s only child to live to adulthood. While she spent most of her childhood in the Stone House, most of her teenage years were spent in New York and after her marriage in Florida. She married Charles Munson in Jacksonville, Florida in 1906. Their only child, Charles Southworth Munson, died shortly after birth. Ada came back home to the Stone House upon the death of her father and lived her remaining years in Deep River. She was a founding member of the Deep River Historical Society and bequeathed her family home to the Society in 1946.
The Society has worked hard to maintain this lovely home and to use it as a showcase for the treasure trove of items that past members have collected over the years. The Deep River Historical Society is grateful for the continued support of this community to help us fulfill our mission to preserve and protect these objects in our care. For decades we have been slowly working to make this venue a small museum, with archival storage areas and educational interactive exhibits. This last grant from CT Humanities with the help of Brenda Milkofsky has finally helped us to reach that goal. There is still more work to be done, but we are now truly a small museum ready to serve our community.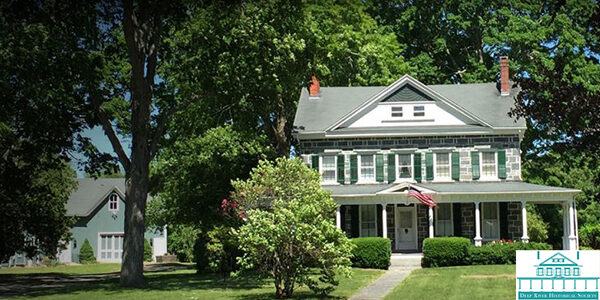 Stop in and see us. We have a lot to show you.
It's been quite a summer. Thank you for taking this journey with us. I hope you had fun on your adventures. Stop into the Stone House on Family Day September 18th from 10 am to 2 pm and visit our new exhibits. In the fall we will be busy transforming the Stone House into a celebration of trees in anticipation of the Festival of Trees which is scheduled for December 3rd – 5th.
Hope to see you there.