The Deep River Historical Society is located at 245 Main St Deep River, CT across from the Dunkin Donuts shop. Ample parking is free as is admission to exhibits.
Hours of Operation
We are open from June until September
Thursday mornings from 10 am until 12 noon.   
Saturdays from 11 am to 1 pm, and
Or call (860) 526-1449 to make an appointment.
Group tours can be arranged by appointment.
Current COVID policies
If you are feeling ill, please stay home and visit at another time. The health and safety of our visitors and staff are our first priority.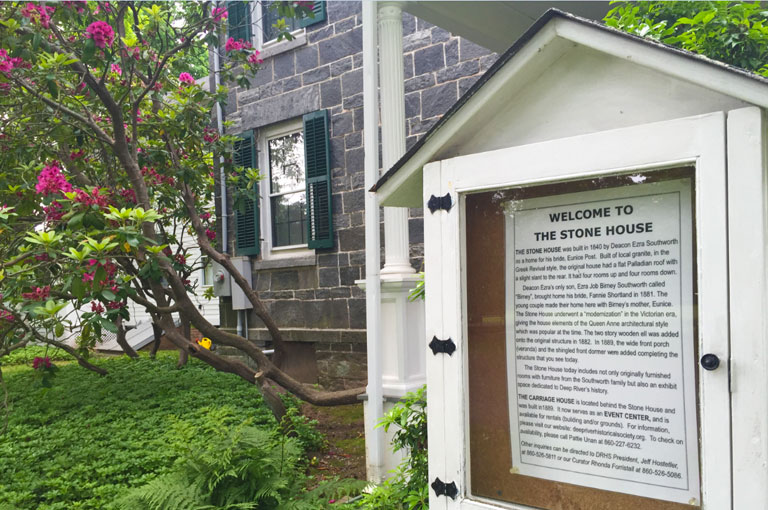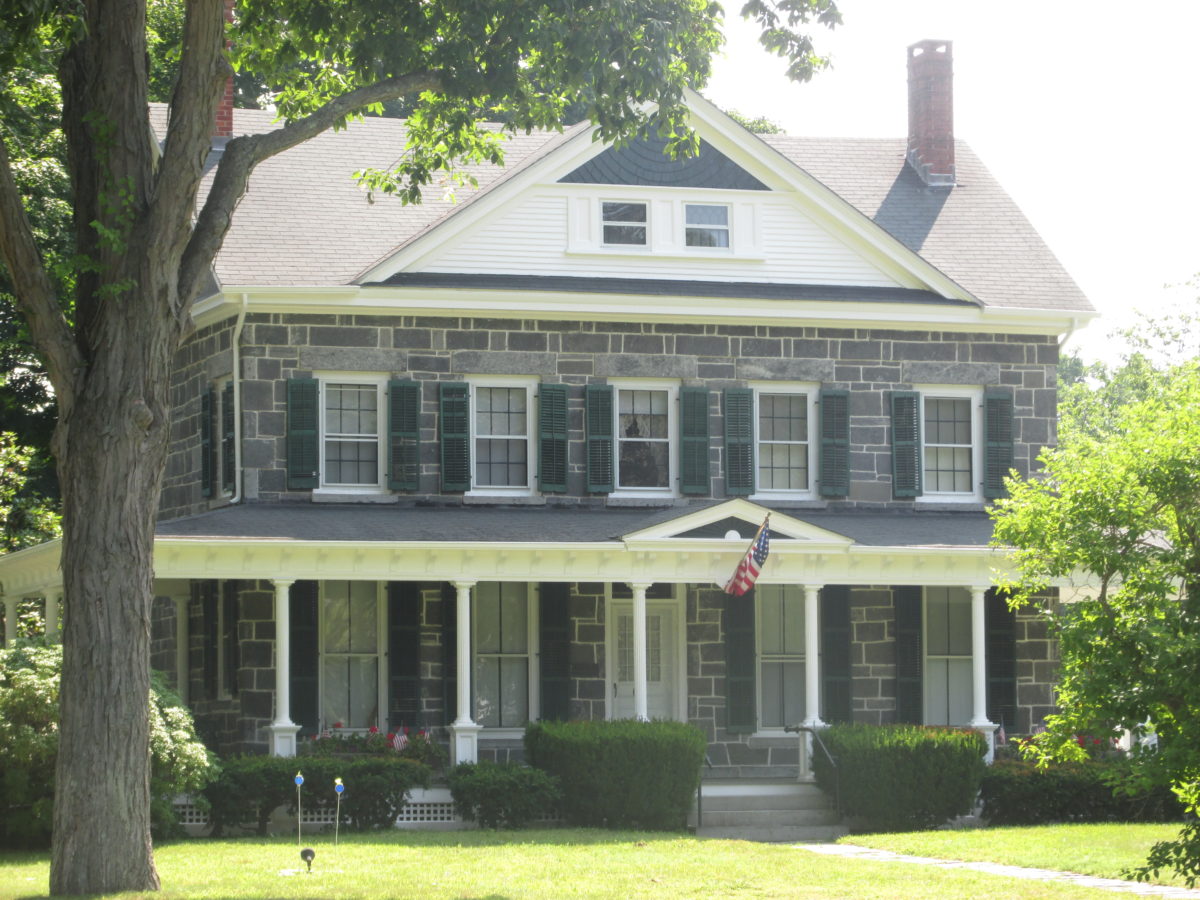 Featured Exhibit
The Stone House
The Stone House built by Ezra Southworth in 1841 is one of three structures built of local stone in this community and highlights the quarry industry, which was an essential piece of Deep River's past.  Its original Greek revival lines have been blurred over time with the addition of the wrap-around veranda and the Queen Anne accents. The Carriage House, built in 1889, sits on an older foundation. It housed the family's two cows and horses for their carriage. This structure is on the CT Historic Barns Registry. 
The Southworth Family
Three generations of Southworths have lived in the Stone House.  One of Deep River's early pioneer families, the Southworths, represents the climb many families made as this community changed from an agrarian society to the the Industrial Revolution, placing a piano in every parlor as a status symbol of having come of age. Exhibits in the Parlor, Dining Room, and Ada's Bedroom showcase furniture used by the Southworth family. The front parlor and bedroom furniture reflects the Empire-style horsehair furniture that reached the height of popularity in 1840. Mid-19th century oil portraits by renowned Deep River Artist Obadiah Dickinson and New York artists Thomas Craig adorn the walls. A piano made by John H. Most, from the wood of the Charter Oak Tree and other vintage musical instruments, complete this exhibit of family life in the late 19th Century.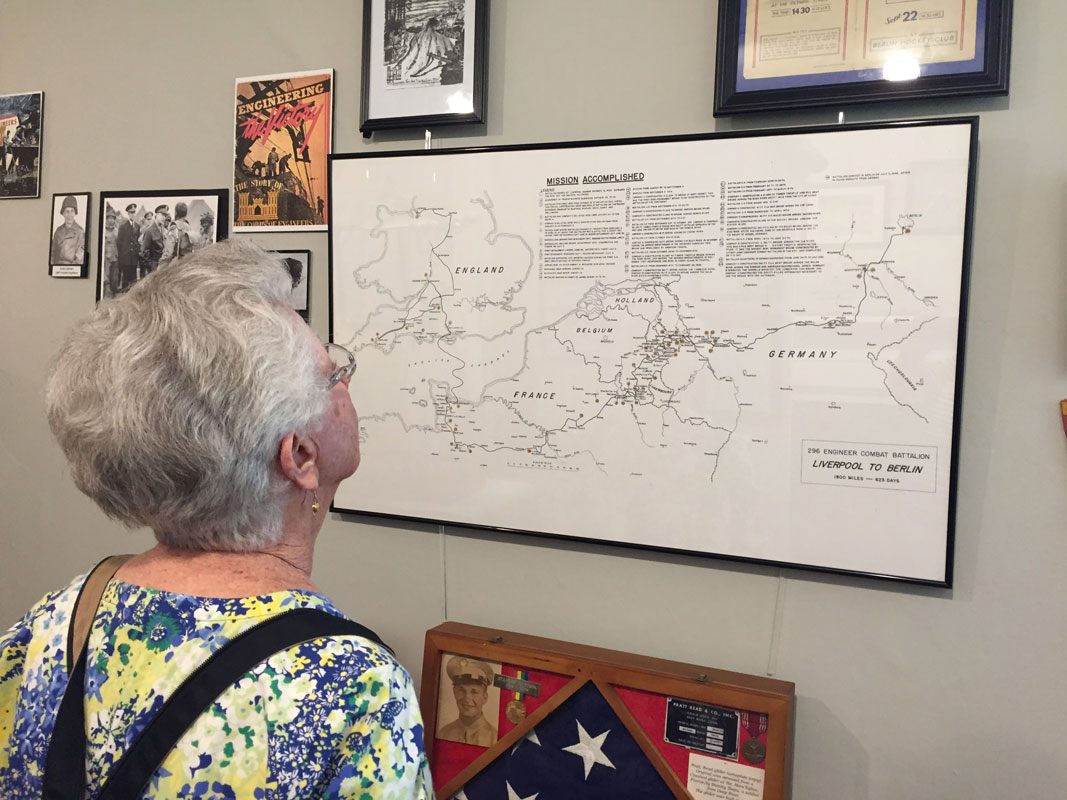 World War II
The very popular World War II exhibit is presented primarily in the Marine Room. The faces and stories of Deep River's WWII veterans are the focal point of this display which spills into other rooms of the house. Period music, President Roosevelt's encouraging words as he tells a nation they are going to war, uniforms, wedding dresses and other accouterments expand the story of 416 men and women who served their country from 1940 to 1946. This emotional and thought-provoking exhibit will remain up until late September 2023.  
Wharf to Waterfalls
Supported by grants from CT Humanities and the Community Foundation of Middlesex County, the Wharf to Waterfall exhibit navigates the Deep River and the factories that took their power from the river.  From the Wharf where village life in Deep River first began and traveling downstream on the Deep River, visiting factories and exploring their wares which were shipped around the world, this permanent exhibit is a fascinating treasure trove of gadgets, tools, and lace.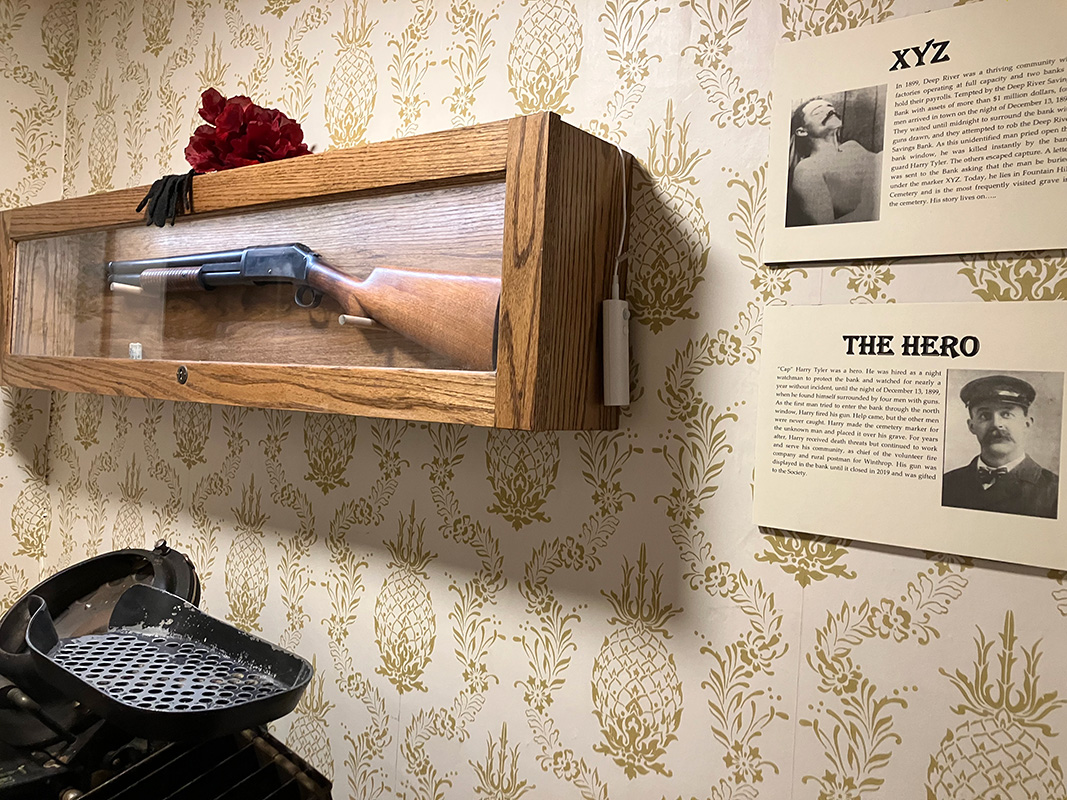 XYZ
Text panels relate the story of the unknown bank robber and the bank's night watchman. Harry Tyler's gun and documents pertaining to the Bank Robbery of 1899 were donated to the Deep River Historical Society when Citizen's Bank closed its Deep River office. A special wooden cabinet was built by Mark Lowrey to house this exhibit and donated to the Society. A pair of black lace gloves and flowers representing the Lady in Black tells another part of this story. The DRHS is grateful to Citizen's Bank for their donation and for keeping these items in town.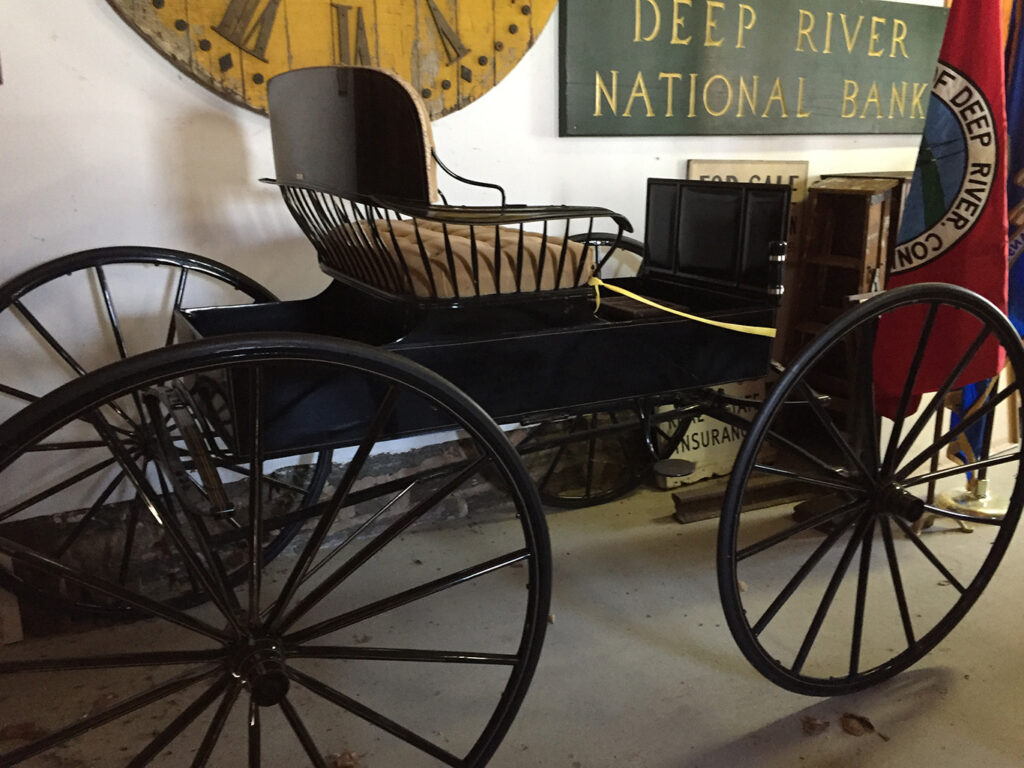 DRHS Membership Day
June 3, 2023 @ 1 PM-4 PM
Deep River Historical Society
Please join us for this special event for our members.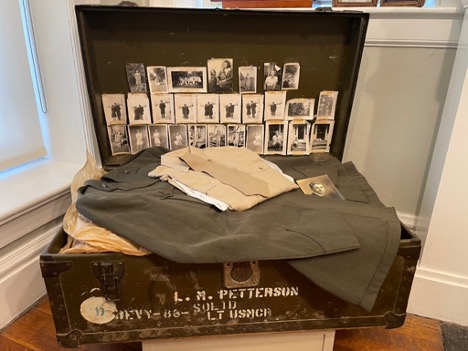 DRHS Re-opens for the Summer!
June 10, 2023 @ 11 AM-1 PM
Last Chance to See WWII Exhibit with New Additions!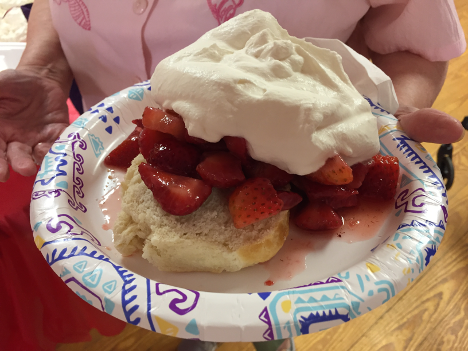 Strawberry Social
June 11, 2023 @ 1 PM-3 PM
DRHS Carriage House
Welcome Summer at the Deep River Historical Society Strawberry Social!