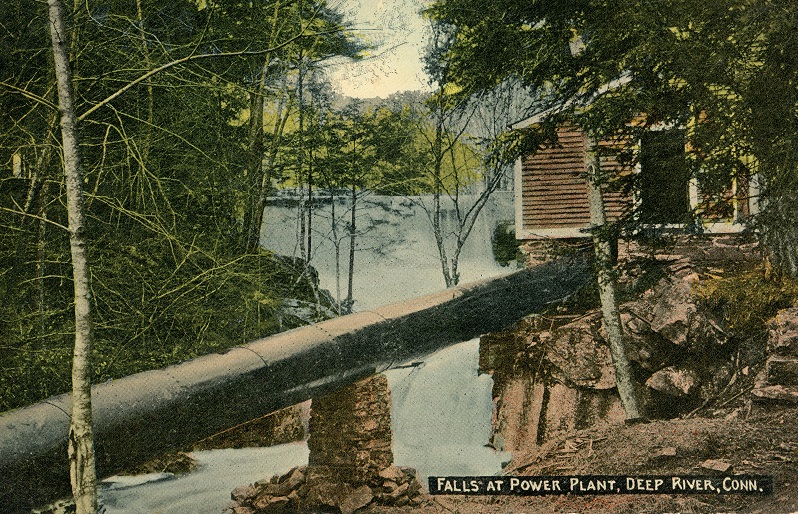 The Deep River Historical Society will open its doors to showcase new exhibits funded with a matching grant of $11, 694 from the Connecticut Humanities. This will bring to life the story of the Deep River Stream, the mills and factories built along its banks, and how they played a very important role in the Industrial Revolution.
The Community Foundation of Middlesex County also donated $1,250 for the creation of two short videos which show the Pratt, Read WACO gliders in flight and the Levers Lace machines in action, and the equipment for viewing them. The Community Foundation supported our efforts to digitalize 8 mm movie film to create these hands-on videos which enhance the Wharf to Waterfall exhibit.
With content geared for all age groups, including children, Warft to Waterfall will have a special appeal to residents whose families worked in Deep River's factories over several generations.

This long-term exhibit at the Stone House is located in the Munson Gallery and will open Sunday, June 6th from 2 pm to 4 pm. The Society will be open Sundays 2:00-4:00pm & Thursadys 10:00am-noon throughout the summer. There is no entrance fee.
About Connecticut Humanities
Connecticut Humanities (CTH) is an independent, nonprofit affiliate of the National Endowment for the Humanities. CTH connects people to the humanities through grants, partnerships, and collaborative programs. CTH projects, administration, and program development are supported by state and federal matching funds, community foundations, and gifts from private sources. Learn more by visiting cthumanities.org.
About the Community Foundation of Middlesex County
Community Foundation of Middlesex County is a nonprofit organization dedicated to improving the quality of life in Middlesex County and helping Good People Do Great Things. The mission of the Community Foundation of Middlesex County is to improve the quality of life for the people of Middlesex County now and in the future by developing endowments, making grants that have an impact, and assisting donors in meeting their philanthropic objectives. Our interests are your interests, including animal welfare, arts and culture, health and social services, education, history, the environment, civic improvements, recreation, and economic security and opportunity. We welcome conversations with good people who want to do great things. For more information, contact us at 860.347.0025 or info@MiddlesexCountyCF.org.