The Deep River Historical Society will be opening for the summer season on Saturday June 30th from 2-4 pm and welcoming visiting guests on most weekends until early September. To kick off the first day we are hosting a reception and program introduction.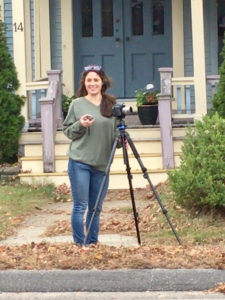 There will be a small reception on the front porch of the Stone House with light refreshments for those that would like to join us for the seasonal opening and viewing of our most recent exhibit. We welcome you from 2-4 pm on Saturday, June 30 the and as always our programs and visits are free to the public.
We invite all to come and see the newest exhibit "Then & Now" which is a series of vintage photographs from the Society's collection and recent photos by Kellan Mahford showing the same iconic structures through today's photographic lens. Kellan is pursuing a graduate degree in photography at the Savannah College of Art and Design. She fell in love with the town's quintessential New England charm and beauty and wanted to create a series of photos of the historic sites and feature them in the present time. Kellan's mother, Susan Rooney, is the librarian of the Deep River Library. Kellan is a music teacher in Regional School District #10.
Deep River has come a long way as a community through these past decades and these photos show some of those changes.
Come and join us and check out some of your favorite buildings from the past into the present.
For future information contact: 860-526-5086